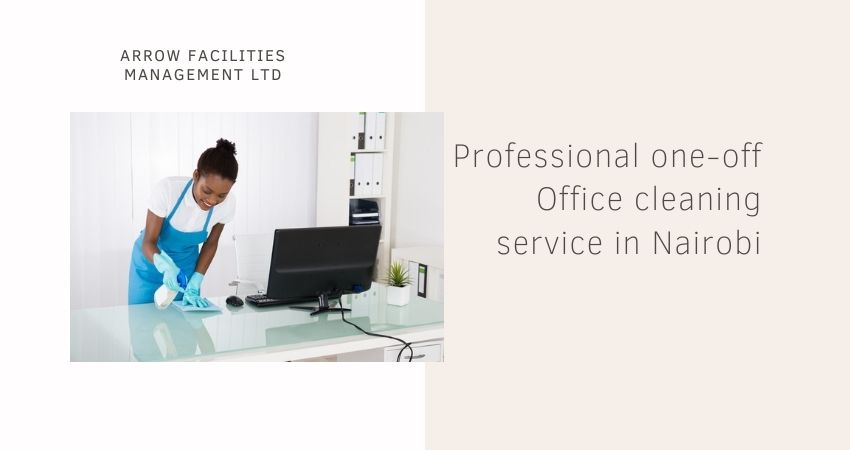 For many reasons, you may need to book reliable one-time office cleaning service, and we have a cleaning team to help you. Nowadays, who has time for general cleaning, oven cleaning, window cleaning, or wiping the inside of cabinets, refrigerators, and drawers? Let us remove the hard work from your worklist.
Arrow Facilities Management provides the highest level of cleaning services in Nairobi. Although we are experts in one-time cleaning services, we also focus on regular cleaning, office cleaning, commercial cleaning, etc. This service is best for all customers who do not need regular office cleaning
If you are located within 30-40 kilometers from the Nairobi city center, then we are likely to provide you with services.
If you are still not sure which service to provide you, please feel free to visit our "Contact Us" page and we will be happy to help you.
Types of one-off cleaning services offered
One-Off Office Cleaning Services for Specific Areas
If you are want to clean certain areas of your Office, then our "specific area cleaning" service would be best for you. On our hourly rates, we can be completely flexible with the cleaning we provide and simply do as much work as possible in the time booked.
These types of one-off cleans are great if you need certain specific areas cleaned (e.g. kitchen, bathrooms, floors) or if you just are looking for a quick spruce up of certain areas.
We provide all equipment and supplies so all you need to do is book yourself in and let us take care of the rest.
Office General cleaning Services
When your Office has not been completely cleaned in 4-6 weeks or more, over time, dust, dirt, and grime will accumulate in certain places. As a result, our checklist takes longer to execute and requires more cleaning work. "deep cleaning" takes extra time and work to make your office glow again! Call us today for your one-off deep cleaning services.
In a few minutes, which will clear the mess and provide us with space for the actual cleanup. We recommend that you tidy the office, as this will save the cleaners valuable time to perform actual tasks. The time spent by the cleaner can be used to perform the actual cleaning work he/she is hired for. The owner of the office goes to sort out the clutter because he or she knows all the odds and ends. Don't worry about cleaning the floor, dusting, wiping, the rest is fine. Once we have cleared the cluster, we will commence the general cleaning Process.
Part-time office cleaning services
If you are looking for short time visits from cleaning staff to take care of cleaning for an hour or so then call us today. Most small offices prefer a visiting cleaner instead of having someone idling around your small office then you could call us so we can help you schedule a cleaner as and when you need him or her.
Weekly office cleaning services
Outsourcing your weekly office cleaning services can be a good way to reduce the company's overhead costs while maintaining the company's image and working in a beneficial and impressive office environment.
Hiring weekly professional office cleaners can ensure that your office runs like a well-functioning machine, and the cleaner your office is, the more employees will pay attention to keeping their personal space organized, desks and documents neatly organized.
The weekly cleaning and maintenance of the office will not only benefit you and your employees but will also leave a great first impression when customers visit. Ensuring you have a personable, spotless, and tidy office can greatly inspire your confidence in the company. People equate cleaning with efficiency and higher quality products or services
Also read about our INDUSTRIAL CLEANING SERVICES IN NAIROBI
What to expect in our one-off cleaning services
Dust and polish all furniture.
All skirting boards must be cleaned.
Lighting fixtures and switches need to be cleaned.
Dusting the windowsill
The floor should be hovered or mopped.
Wipe the door to remove finger marks.
Remove the cobwebs from the accessible ceiling.
Clean and disinfect the inside and outside of the toilet seat and bowl
Clean and destaining the bathtub (​​shower room)
Polish the faucet.
Clean and destaining the washroom tiles.
Clean and wipe the cabinet.
The mirror should be clean.
All wood surfaces must be wiped or dusted.
All staircase railings and spindles must be cleaned.
 Stairs should be hovered and/or mopped.