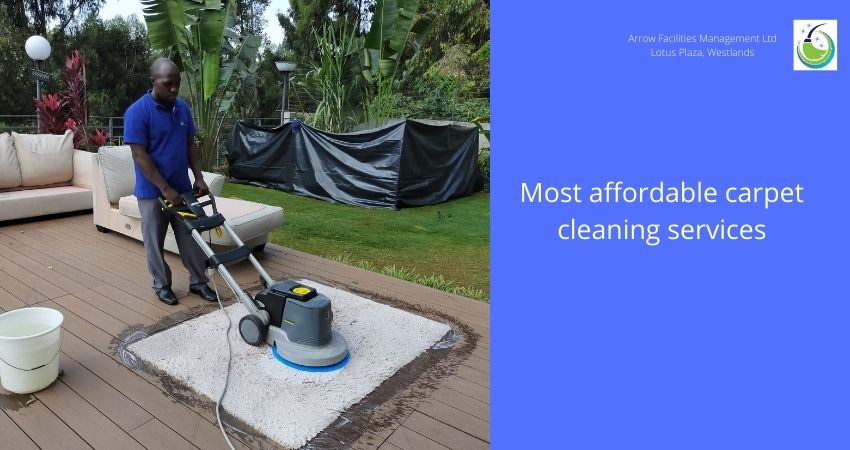 At Arrow Facilities Management, we understand that you want results, but you don't want to disrupt your workday or cause unnecessary disturbance. As professional carpet cleaners, we will immediately leave your carpets smelling fresh and looking clean. We offer the most affordable carpet cleaning services in Nairobi. We use the most advanced machines and we come to your residence.
We have hired professional cleaners, who provide unmatched commercial and household services. Whether you are looking for a residential or the best commercial carpet cleaning company in Nairobi, we will provide you with excellent service and at very favorable prices.
We know that a house is a place to live in. We also know that if the house is not clean, it is not a house. This is why we only hire employees who are trained in industry standards. In this way, our team can provide the best household carpet cleaning services in Nairobi. Moreover, we only use environmentally friendly solutions in a non-toxic home environment.
Our carpet cleaning method
Arrow FM carpet cleaning has successfully used wet and dry carpet cleaning methods. This is one of the reasons why we are the leading cleaning service provider in Nairobi County offering quality, punctuality, and favorable prices. You may have heard of us on social media or traditional news because we provide comprehensive cleaning services for all areas in Nairobi.
This is how we operate;
Before doing any work, clean the carpet or carpet thoroughly. A biodegradable absorbent cleaner is evenly spread and scrubbed or brushed into the carpet/carpet. The compound attracts dust and dirt and is left for 5 to 10 minutes to complete its work. To help complete the process, a specially designed machine (agitator) is used to mix the mixture into the carpet. The water is pumped out, leaving the carpet clean and dry, and the drying time is much faster (about two hours).
Our wet and dry carpet cleaning methods are designed to provide customers with convenient high-quality cleaning. If you have oriental carpets or carpets with rare or delicate fabrics, our dry blending method will be very suitable for your needs.
What if I have stains?
Our carpet technicians will prepare and protect your carpets and rugs and use special chemicals to treat stains and odors to make them look brand new.
Why book a carpet service with us?
Our carpet cleaning methods are the latest in the cleaning industry, and they always bring excellent results. We can provide a series of carpet cleaning services together, which can't be found anywhere else:
Safe carpet cleaning methods for children and pets

The cleaning supplies we use are environmentally friendly
We offer a 24-hour guarantee in case we've missed out on any area, we will return to clean free of charge
Well-trained, uniformed operators
Free, no-obligation to quote
Free advice on how to protect and maintain carpets
Short drying time
Allergies and dust mites present in Carpets
In Nairobi, one in five people suffers from allergies. We have available carpet cleaning equipment and materials that can remove dust mites from the carpet. Our method is proven to reduce the following:
Dust mite

Pet allergens
Mold spores
What to expect
Deodorization of carpets and upholstery (smoke, urine, pet odor, etc.)

Carpet and upholstery disinfection
Remove bacteria, mold, body fluids, and blood, etc.
Remove fluff, carpet moths, etc.